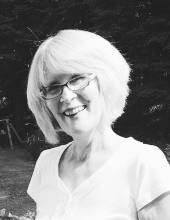 Obituary for Laurie Friedli
Staatsburg, NY

Laurie Friedli, a truly exceptional woman, passed away at home on July 1, 2018. Laurie touched the hearts of so many people. She was loving, genuine, kind, gentle, comforting, and FUN!

Laurie served for forty-two years at St Francis / Mid-Hudson Regional Hospital. She had a blessed touch: Registered Nurse, Occupational Therapist, Reiki Master, and Board-Certified Reflexologist. So many of us experienced Laurie as a healing spirit, spreading love and light to all she encountered.

Laurie loved laughing, talking, eating together and where ever she was, if a song she liked came on, she would jump straight up at the sound and dance and sing, and everyone would join along. Her strong, fun-loving spirit was contagious. She also loved yoga, hiking, gardening, dancing and kayaking.

Most of all her pride was her children, Hayley and Ali Palmatier, her husband Brett, and grandchildren, Sachie, Fiona, Elaina and Logan. Daughter of the late Gilberta (Hirst) and Alexander (Sandy) Anderson, and sister of the late Sandra, she is survived by her brother, Gilbert Anderson.

Laurie believed that what matters most is how we treat one another and to be kind and compassionate. She knew that if you express true confidence in everything you do, you can really inspire others to do the same. Laurie made people feel loved. It was her greatest gift to us. Her love and acceptance are in everything we have and everything we do and will always be. Laurie's legacy of joyful optimism will always live on! Death cannot ever take away her brightness. We love her, thank her and will carry her within us always.

A memorial service will be held in Millbrook at Lyall Memorial Federated Church on Saturday, July 14 from 3 to 6 PM. www.lyallmemorial.org. Donations to The Cancer Research Institute are appreciated.  Cancer Research Institute, 29 Broadway, 4th Floor, New York, NY 10006-3111 or online at www.cancerresearch.org.

Arrangements are by Sweet's Funeral Home, Inc., Rt. 9, Hyde Park. To send an online condolence or for directions, please visit www.sweetsfuneralhome.com.
Memorial Contribution