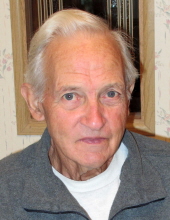 Obituary for Frank H. Hanlon
Frank Homer Hanlon, 86, of Hyde Park, NY and a lifelong Dutchess County resident, passed away on Thursday, June 28, 2018.
Frank was born on November 19, 1931 in Stissing, NY, the son of Charles Hanlon and Rita Shook Hanlon, and attended Pines Plains schools. After moving to Poughkeepsie, he married Jean Tompkins on November 23, 1952 - they commemorated their 65th anniversary in 2017.
Frank took pride in the satisfaction of hard work, and was employed for 38 years at Agway, an agricultural company in Clinton Corners, NY. After retiring, he worked for another 14 years at Carvahlo's Greenhouse in Clinton Corners.
His passion was fitness – he was a lifelong bodybuilder with a "mind over matter" attitude that helped him overcome heart disease that he had since childhood. He stayed active in his senior years: driving and working on cars, riding a bicycle and mowing lawns for his neighbors. He loved the outdoors, especially the Hudson River; music and playing guitar, especially classic country and folk; and spending time with his family and friends.
A true "people person," Frank always had a friendly word for everyone and helped out anyone in need. He was a great storyteller, and loved talking about the good old days, as well as current events.
Frank is survived by his wife Jean; two daughters, including Linda Hanlon of Poughkeepsie; sisters Barbara Dunlavey of Millerton, NY and Alma Campbell of Standfordville, NY; brother Charles Hanlon, of Clinton Corners, NY, and several cousins, nieces and nephews. He was predeceased by his parents; brothers William and Michael Hanlon; sisters Regina DeMaroney, Mary Hanlon and Janice King; and many aunts, uncles and cousins.
Arrangements are with Sweet's Funeral Home in Hyde Park, but respecting Frank's wishes, there will be no formal services. Those who wish to honor Frank's giving spirit may donate to their favorite charity or do a simple act of kindness for another in his memory.
Frank's family would like to thank the staffs of Vassar Brothers Medical Center and Renaissance Rehabilitation and Nursing Home for their professional care and consideration.
To send an online condolence or for directions, please visit www.sweetsfuneralhome.com.