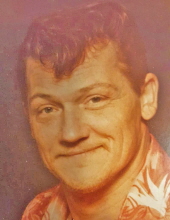 Obituary for Raymond K. 'JJ Outlaw' Daby Jr.
Poughkeepsie – Raymond Kenneth Daby Jr., 74, a lifelong area resident, died at home on Saturday, June 16, 2018 with his family by his side. His nickname and CB radio handle was "JJ Outlaw."
Born in Beacon on May 23, 1944, he was the son of the late Raymond Kenneth Daby Sr. and Jean Dorothy Wood Daby.
After High School, he proudly served in the United States Marine Corps.
Mr. Daby was a long haul 18-wheel truck driver for various companies including Arnoff Moving and Storage.
Raymond's hobbies include fishing and talking on the CB radio. He was of the Methodist faith.
Survivors include his children, Ramona Culler and husband, Frank, Raymond Daby III and wife, Sherrie Gonzalez, and Jodi Lilliman, all of Louisiana; three step-children, Victor Norris, and William and Walter Lynch; many grandchildren and great-grandchildren; brother, Rolland L. Daby and wife, Virginia, of Hyde Park; half-sister, Lena Daby Hall of Vero Beach, FL; and many nieces, nephews, and cousins.
In addition to his parents, he was predeceased by his daughter, Donna Marie Daby; son, Christopher Raymond Kochis; grandson, Nicholas Wade Corley; and two sisters, Sandra Garone and Betty Jean Hosier.
There are no calling hours. In keeping with his wishes, cremation will take place at the convenience of the family. A Memorial service will be held at a later date.
Raymond's family respectfully request memorial donations to Boys Town, 200 Flanagan Boulevard, PO Box 8000, Boys Town, NE 68010. (www.boystown.org)
Arrangements are by Sweet's Funeral Home, Inc., Rte. 9, Hyde Park. To send an online condolence or for directions, please visit www.sweetsfuneralhome.com.
Events
Event Information
Cremation has taken place.
Memorial Contribution