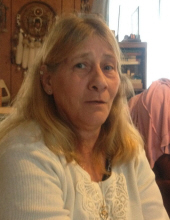 Obituary for Debra Marie Veach
Debra Marie Veach, most recently of Marlboro, NY, passed away in her home on May 1, 2018.  The oldest daughter of Marie E. Zwecker and George W. Ostrom Sr., Debbie was predeceased by her parents as well as her step-father, Warren L. Cornell Jr. of Hyde Park.  Debbie is also predeceased by her younger sister Patti Tarantino of Hyde Park and is survived by eight older and younger siblings who reside in New York, South Carolina and Florida. 

Debbie was the mother of three children: Tanya Marie Paterson, James George Paterson, Jr. and Nicole Angelina Paterson.  Sadly, James and Nicole tragically passed away in 2005 and 2010 respectively, leaving enormous holes in Debbie's heart and the hearts of her family.  Debbie's older daughter Tanya survives, residing in the Bronx.  Debbie is also survived by four granddaughters and two grandsons.

Debbie was also the proud Aunt of more than twenty nieces and nephews as well as countless great-nieces and great-nephews spread from New York to Florida.

Debbie was a fan of lighthouses and enjoyed spending time at the beach with her family, including numerous vacations to Wildwood, NJ.  Debbie collected lighthouse figurines as well as snow globes, clowns and harlequins.  Debbie was also an animal lover, having a special fondness for dogs, cats and birds.  Debbie enjoyed movies and music and was a huge fan of Bruce Springsteen. 

A memorial service led by Pastor Wayne Olson has been planned for Saturday May 19, 2018 at 11:00am at St. Timothy's Lutheran Church, 1348 Route 9G, Hyde Park, New York 12538.  In lieu of flowers, the family requests that donations be made in Debbie's name to The Dutchess County SPCA.