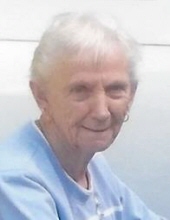 Obituary for Claudette J. Simpkins
Hyde Park – Claudette J. Simpkins, 87, a Hyde Park resident since 2005 and formerly of Bradenton, FL, died Thursday, March 15, 2018 at the Eleanor Nursing Care Center.
Born on March 1, 1931 in Poughkeepsie, she was the daughter of the late Claude and Jeanette Fell Masten.
She was the former owner and operator of the Michiana Motel in Bradenton, Florida.
Mrs. Simpkins was predeceased by her husband, Robert, and a son, Steven Borgos.
Survivors include her three children, William Borgos of Hyde Park, Gail Lowe of Hyde Park, and Ruth D'Ambrosio of Millbrook; eight grandchildren; thirteen great-grandchildren; and cousin, Richard Gough of LaGrange.
In keeping with her wishes, burial will be private and at the convenience of the family.
Arrangements are by Sweet's Funeral Home, Inc., Hyde Park. To send an online condolence or for directions, please visit www.sweetsfuneralhome.com.