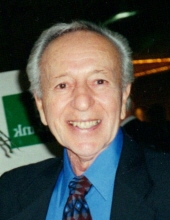 Obituary for Vito J. Petroccitto, Sr.
Vito Joseph Petroccitto, Sr., 91, of Hyde Park, NY, passed away peacefully on Sunday, January 14, 2018 at home surrounded by his loving family. A lifelong resident of Dutchess County, he was born in Poughkeepsie, NY to Antonio and Theresa Patane Petroccitto. He grew up on Gifford Avenue, attended Poughkeepsie schools, and was a parishioner of Our Lady of Mount Carmel Church. In his youth, he enjoyed being an Eagle Scout, hunting with his father, working as a pinsetter at the Dutchess Bowling Alley on Washington St., and drove the delivery truck for his Uncle's meat market in Poughkeepsie's Little Italy at the age of 13. During high school, he fell in love at first sight with Frances Dembicki, who lived just a couple of blocks away, and entered into a lifelong love affair of 73 years. In his early teens, he received drum lessons from Dominic Cavalieri, and later, in NY City, from professional Henry Adler, who also taught Buddy Rich. Much to Adler's chagrin, Vito was drafted into the US Army in the autumn of 1945, just as his career as a drummer was beginning to take off. He trained as a sharpshooter at Camp Wheeler during basic training, then deployed to Italy on the SS Randolph. As it happened, the Army needed a drummer as much as an infantryman, so he served with the 117th Army Ground Forces Band. While in Florence, he also had the opportunity to drum in the Lucca Symphony Orchestra. Vito received an Army of Occupation and a WW II Victory Medal, as well as an honorable discharge as a Sargent in 1947.
Once back in New York, he began a 35-year career as Head Pressman and manager at Kem Plastic Playing Cards in Poughkeepsie. He married Frances in 1948 and bought a house. He taught drums at the Poughkeepsie Music store for many years. He formed a band in which he sang and drummed, performing for many years at Nick Beni's Anchor Inn. Later, his trio, Vito and Sounds, became a well sought-after wedding and party band throughout the area for many years. He was a member of the Local 238 Federal Musician's Union Concert band. He performed with SwitchIn Time, Big Blue Band, and the Jazz Pioneers. He received the Charlie Morano Lifetime Achievement Award from the musicians of Local 238-291 AFM. After retiring from Kem Cards, he enjoyed working for the Hyde Park Florist delivering flowers. He and Fran attended several 117th Army Band reunions around the country. Every Labor Day weekend for about 35 years, they had many good times with a very special group of neighbors and their children from Crumwald Acres in Hyde Park, at Minerva Lake in the Adirondacks.
Most of all, Vito loved spending time with his family and in his role as a devoted husband, father, grandfather, brother and uncle. He especially loved spending time with his grandchildren, whether splashing in the pool, singing songs, or play-acting some of the silly characters he made up. We are lucky that he captured so many happy occasions and vacations in home movies. His appreciation of music brought him much joy, which was passed down to his children, and there was always music playing or instruments being practiced in his home.
He is survived by his wife, Frances and his children: Joan Bialosuknia (Joseph), Anthony Petroccitto (Theresa Doss), and Vito Petroccitto, Jr. (Sarah). He is also survived by his six grandchildren: Sean and Andrea Bialosuknia, Emilio and Bella Petroccitto, and Joanna and Leah Petroccitto. He is also survived by his sister, Josephine Bilangino (Charles); sister-in-law, Connie Petroccitto; cousin, Rose Fitzgerald (Francis); in-laws, Kathleen Murasso (Lou), Harry Dembicki (Mary), Geraldine Simmons, and Linda Dembicki; also, many well-loved nieces and nephews.
He was predeceased by his brother and sister-in-Law, Frank and Lila; brother, Joseph; nephew, Mario Petroccitto; cousins, Mary Danielle, her sons, Michael and Louis; and cousins, Frank, Mike, and Guy Petroccitto. He was also predeceased by his brothers-in-law, Mike and Harold Dembicki, and Philip Simmons, Sr.
The family wishes to thank Vito's doctors, the DSI Dialysis Team, and the volunteers at Friends of Seniors, who all took great care of him over the past seven years. In lieu of flowers, the family requests contributions to your favorite charities.
In keeping with his wishes, cremation has taken place.
A Mass of Christian Burial will be celebrated at 10 am, Friday, January 26th at Our Lady of the Rosary Chapel of St. Peter's Parish, 185 Hudson View Dr., Poughkeepsie.
Burial of his ashes will follow in the family plot at St. Peter's Cemetery, Poughkeepsie.
To send an online condolence or for directions, please visit www.sweetsfuneralhome.com.
Previous Events
Service
Our Lady of the Rosary Chapel of St. Peter's Parish
185 Hudson View Dr.
Poughkeepsie, NY 12601
Cemetery Details
Location
St. Peter's Cemetery
171 Salt Point Turnpike
Poughkeepsie, NY 12603
Memorial Contribution