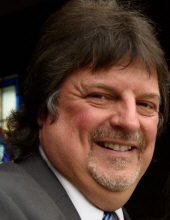 Obituary for Raymond Sczerba
Raymond Sczerba, 58, a longtime resident of Highland (formerly of Goshen) died at home on Wednesday,January 3, 2018.

Born Wednesday, July 1, 1959 in Middletown, he was the son of Stanley and Mary J. (Sanok) Sczerba. Ray was agraduate of the former S.S. Seward Institute in Florida, NY, Orange County Community College, and he receivedhis Bachelor's Degree from Marist College.

Ray worked as an accountant for the Dutchess County Department of Behavioral and Community Health.

He was an honorable member of the Red Cross and the Exempt Firemen's Assoc. of Poughkeepsie. He wasalso a former member of the Polish American Citizen's Club in Poughkeepsie. Ray very much enjoyed playing golf,bowling, and watching his favorite hockey team, the Boston Bruins. As a talented drum player, Ray loved musicand enjoyed going to live concerts.

Ray is survived by the mother of his children, Joan Sczerba; son, Jonathan Sczerba, and his wife, Sara; daughter,Lauren N. Wood, and her husband, Frank Jr.; sister, Joyce Ann Sliwa, and her husband, Joe; brother, Tom Sczerba,and his wife, Andrea; brother, Ed Sczerba, and his wife, Susan; and many nieces and nephews.

In keeping with his wishes, cremation has taken place. A celebration of his life will take place at a later date.

Raymond's family respectfully requests memorial donations be made to the American Red Cross, Mid-HudsonValley Chapter, 4 Jefferson Plaza, Suite 302, Poughkeepsie, NY 12601 (845-471-0200, www.redcross.org); and/or to the American Cancer Society, Hudson Valley Region, 121 Executive Drive, New Windsor, NY 12553 (845-440-2500; www.cancer.org).

Arrangements are under the direction of Sweet's Funeral Home, Route 9, Hyde Park.

To send an online condolence, please visit the website,  www.sweetsfuneralhome.com.
Memorial Contribution
American Red Cross
Mid-Hudson Valley Chapter
4 Jefferson Plaza, Suite 302
Poughkeepsie, New York 12601