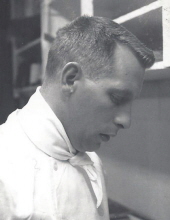 Obituary for Dick Smith (Local Restauranteur)
Richard V. Smith, affectionately known as "Dick", local restauranteur for 55 years, passed away peacefully on Monday, January 8, 2018 with his family at his side. Rev. Eugene Grohe administered the last rites of the Catholic church.

Dick Smith, the son of Benjamin and Helen Smith, was born on June 21, 1936 in Scranton, PA.

Dick graduated from Moscow, PA High School and then joined the U.S. Marine Corp. during the Korean War. Upon discharge from the Marine Corp., Dick attended the Culinary Institute of America and graduated in 1959.

Upon graduation, Dick was employed by Restaurant Associates in New York City. In 1962, Dick was hired by Wayfarer Inns and became Executive Chef at the "Beekman Arms" in Rhinebeck.

In 1969, Dick purchased "R's Luncheonette" for his wife, Maureen. "R's" later became the very popular "Dick Smith's Side Street Restaurant" on Spackenkill Road.

Dick's next venture was "Dick Smith's" at the Edison Motor Inn in La Grange.

In 1989, Dick purchased the "Hedges Restaurant" in West Park, NY and renamed it "Stonehedge". Dick operated the family restaurant and catering with his son, Anthony, also a Culinary Institute alumnus.

Dick Smith is survived by his wife of 57 years, Maureen, and his children: Anthony Smith, and his wife, Kim; Mark Smith, and his partner, Cynthia Ackert; Christina Royster, and her partner, Paul Wasserbach; Jeffrey J. Smith; and Karen Ackerman, and her husband, Kenneth. Dick is also survived by his brother, Charles F. Smith, and sister-in-law, Joan.

Dick will be loved and missed forever by his children and grandchildren: Deanna Castellano, and her husband, Christopher; Sean Royster; Anthony Smith, and his wife, Emily; Dylan Smith; Caitlin Ackerman; Benjamin Smith; Bryan Royster, and Sydney Ackerman.

He is also survived by his brother-in-law and sisters-in-law and many nieces and nephews.

Dick had many friends, including Pat Gaudio and Tom Weisman.

The family wishes to thank the doctors, nurses, and staff at Vassar Brothers Medical Center for their compassionate care.

Per Dick's wishes, there will be no calling hours.

In lieu of flowers, memorial donations may be made in Dick's name to the Wounded Warriors Project, 370 7th Avenue, Suite 1802, New York, NY 10001 (www.woundedwarriorproject.org) and/or to St. Jude's Children's Hospital, PO Box 1000, Dept. 142, Memphis, TN 38148 (www.stjude.org).

Arrangements are under the direction of Sweet's Funeral Home, Rte. 9, Hyde Park.

To send an online condolence, please visit the website, www.sweetsfuneralhome.com.