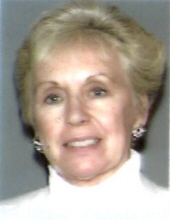 Obituary for Marlene Ann Gordon
Marlene Stewart Gordon, 84, a longtime resident of Hyde Park and formerly of Whitehall, NY, passed away on December 21,2017 at the Lutheran Care Center in Poughkeepsie following a long illness.
Marlene was born on April 10, 1933 in Whitehall, the daughter of the late Henry and Olive Lawrence Stewart.
A graduate of Whitehall High School and the Hudson River State Hospital School of Nursing, she went on to obtain a Bachelor's Degree at Oneonta State University and a Master's degree at the University at Bridgeport Connecticut. She worked for 30 years at the Haviland Middle School in Hyde Park.
She was a member of the Daughters of the American Revolution, Mahwenawasigh Chapter, as well as the Hyde Park Historical Society.
On December 4, 1953, she married her high school sweetheart, Charles D. Gordon. They built their dream home in Hyde Park, where they raised three sons. Marlene is survived by her sons: Charles Gordon and his wife, Colleen, of Lake George, James Henry Gordon of New York City, Steven Gordon and his wife, Mary Anne, of Ilion, NY; four grandchildren; and five great-grandchildren.
She is also survived by three sisters, Kay Styles and Jean Stewart, both of Whitehall; and Joan Sovetts of Queensbury, NY.
In keeping with her wishes, there will be no calling hours and burial will take place at the convenience of the family.
In lieu of flowers, Marlene's family respectfully requests memorial donations be made to The ALS Association, PO Box 37022, Boone, IA 50037-0022 (www.alsa.org), or, Dutchess County BOCES, 5 BOCES Rd., Poughkeepsie, NY 12601 (www.dcboces.org), or, the Hospice Foundation, 374 Violet Ave., Poughkeepsie, NY 12601 (www.hvhospice.org).
Local arrangements are under the direction of Sweet's Funeral Home, Inc., Rte. 9, Hyde Park. To send an online condolence, please visit www.sweetsfuneralhome.com.
Memorial Contribution
Hudson Valley Hospice Foundation
374 Violet Avenue
Poughkeepsie, New York 12601