Our staff's commitment to you
Our staff is committed to providing support, compassion, information, and direction as needed to all members of our community, their families, and friends who are dealing with loss and grief.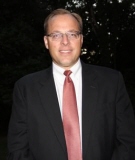 G. Robert Sweet
Funeral Director
A third-generation funeral director, Rob is proud to carry on his family's tradition. Licensed since 1992, he took over the management responsibilities of the funeral home in 1997.

Rob finds great satisfaction in helping his community. He is on the board of the Hyde Park Chamber of Commerce and also serves on the New York State Funeral Directors Association Tribute Board. Rob is a firm believer in giving back to the community and generously supports local companies and charities with corporate sponsorships and donations.

Rob was raised in Hyde Park and educated in Hyde Park schools.

He still lives in Hyde Park and enjoys golfing, bicycling, going on walks, and spending time with his two children, Mary-Kate and Matthew, and his dog, a Goldendoodle named George (who is named after his grandfather, the founder of Sweet's Funeral Home).
Sweet's Funeral Home, Inc.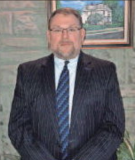 James Matus
Funeral Director
james@sweetsfuneralhome.com
I was honored when I received a call from Rob Sweet and he asked me to join his funeral home. I have known Rob and Mary for many years while working in the Hudson Valley. Their reputation is impeccable.
It's hard to believe that I have been a funeral director for 30 years, 22 years serving various Hudson Valley communities. Despite the daily challenges which include stress, tight deadlines, long hours, and difficult people, I can't imagine doing anything else.
Making a difference in someone's life is what I like the most. I truly enjoy the people I get to meet. It is a privilege and an honor to become part of each family that I am trying to help.
I look forward to continuing a tradition of caring, compassionate service to the families of Hyde Park and surrounding communities. I look forward to getting to know you.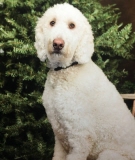 George Sweet
Therapy Dog
Sweet's Funeral Home is Proud to have George on Staff. George is a Therapy Dog certified through Pet Partners. He's available to greet families and lift their spirits during their difficult time of need. our four- legged mascot is friendly and loving. As grief therapy experts, we at Sweet's Funeral Home know how a therapy dog can help soothe aching hearts.